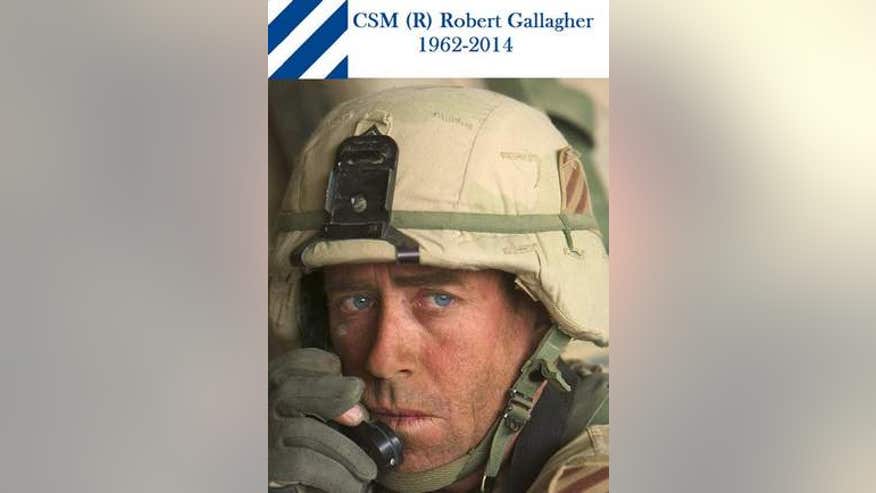 "A decorated soldier who participated in major military actions spanning three decades and spent the last few years of his career helping fellow wounded warriors was found dead in his Georgia home Oct. 13 of natural causes.
Retired Command Sgt. Maj. Robert "Bob" Gallagher — who parachuted into Panama during Operation Just Cause, served as a platoon sergeant with Task Force Ranger in the Mogadishu, Somalia, battle made famous by "Black Hawk Down," and fought on despite being wounded as Task Force 3rd Battalion, 15th Infantry, made its way to Baghdad in 2003 — was 52 years old.
His death was a result of a heart condition for which he was receiving treatment, his son, Patrick Gallagher, said in a Wednesday interview. Third Infantry Division, the parent unit of the task force in which Gallagher served during Operation Iraqi Freedom, announced his death in a Facebook post.
Gallagher relied heavily on that combat experience in his last job before retirement, serving as the command sergeant major for the Army's Wounded Warrior Program.
"You know, I don't say this lightly, but Bob is probably one of, probably the best soldier I ever served with," said retired Col. Greg Gadson, who served as the program's director from 2010 to 2012. "That man really cared about soldiers."
"I know a lot about this man's life, and he's been through a lot. I almost come to tears thinking about what he overcame," Gadson said.
Gallagher was born in Bayonne, New Jersey, in 1962 and joined the Army in 1981, according to an online obituary hosted by the Richmond Hill Funeral Home. He earned aSilver Star, two Bronze Stars (one with "V" device) and two Purple Hearts, among other awards and decorations."
To read the rest of the article describing his achievements and for information on his memorial services, please click the following link:
http://www.armytimes.com/article/20141022/NEWS/310220069/CSM-who-fought-Panama-Somalia-Iraq-dies-52